Legit Peer-to-Peer File Swaps

The Buzz: A little startup is about to make a huge splash, introducing a legal and music-industry-blessed file-swapping service. Peer Impact breaks from the gate with a massive catalog, courtesy of the major labels (Sony BMG, Universal, and Warner; at press time, an EMI agreement was being negotiated), with plans for video, animation, and games in the works. Tunes come with a license and a key, and the system's BitTorrent-like mesh architecture breaks files into packets that can be downloaded from multiple sources and reassembled on your PC. Pricing is the usual 99 cents per song, but users get discounts for sharing bandwidth and acting as content hosts.

Bottom Line: Finally! A P-to-P model that both the suits and the geeks of the world can love. This is going to be big.

Flashy Lightning From Mozilla

The Buzz: The org that brought you the lean-and-mean Firefox browser is working to integrate calendaring into its open-source Thunderbird e-mail app. When it's complete, Mozilla's Lightning project will support the same kind of tightly coupled scheduling that Microsoft Outlook users currently enjoy. A working cross-platform prototype (for Windows, Mac, and Linux) should become available at Mozilla.org sometime in the middle of the year.

Bottom Line: On the record, Mozilla developers are adamant that Lightning doesn't target Microsoft Outlook. I've also heard them insist that the Easter Bunny is real.

Travel Search Takes Off

The Buzz: Online travel agencies are so 2004. The next big thing: travel search engines. Unlike Expedia, Orbitz, and Travelocity--which maintain arrangements (and sometimes even exclusive deals) with particular airlines, hotel chains, and the like--these dedicated search engines spider a vast array of Web sites to direct you to hot deals. That means you'll receive listings for JetBlue, for instance, or an independent hotel that would not show up at Orbitz et al. Another key difference from the big three: Such search engines don't handle booking; they simply query and point.
Bottom Line: From veteran Sidestep to Cheapflights , Mobissimo , Kayak , Qixo , Yahoo's FareChase , and others, the field is more crowded than JFK Airport on the day before Thanksgiving. Now all we need is a specialized search site we can use to help locate all of the travel search engines.
Future Tech: Faster Cell-Phone Data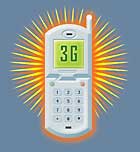 Even as third-generation wireless technologies finally take root in the United States, telecom bigwigs are planning the mobile phone standard's next major upgrade. Dubbed Super 3G, the proposed spec promises data transfer speeds ten times faster than today's 3G services can deliver. Currently under hush-hush development by a consortium of Cingular, NEC, NTT DoCoMo, Siemens, and others, Super 3G could accelerate demand for high-speed video, interactive gaming, and the like. The initial development is expected to be completed in 2007; the target deployment date is 2009. Given the original 3G spec's infamous delays, anyone who took 2015 in the office pool is looking pretty good.
Here\Now
1. Ultracompact storage. Seagate's USB 2.0 Pocket Drive stores 5GB in an ultrastylish, 2-inch-plus-diameter hockey puck shell for $160.
2. Memeorandum.com. Fresh news on the hour, plus thoughtful links to related blogs and other online commentary.
3. TiVoToGo. This long-anticipated upgrade for Series2 TiVos permits you to copy content to your computer over a network.
4. Sub-$500 Mac. A basic, monitorless Apple box (256MB of RAM, a 1.25-GHz PowerPC G4 processor, and a 40GB to 80GB hard drive) could lure Windows users, many of them already dizzy with love for their IPods.
5. Itunes Store Alerts. TunesTracker , a free Web site, will e-mail you when new music you like hits the ITunes Music Store.