Playing well with others was important back in elementary school, and it's equally important for getting your work done now. This month I look at programs that make it easy to share the workload--and maybe even bond with your colleagues. I tried out a tool that handles multimedia project management and group blogging, plus a communications service for universal instant messaging and music sharing.

If you prefer to work alone, then jump to the end of this column to find out how to protect your PC while downloading new software treasures.

Because You're Just Bubbling With Ideas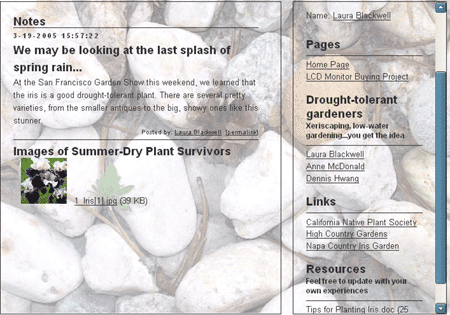 E-mailing documents back and forth is a good way to manage a standard office project. But what if you're working on a presentation full of photos and sound files? Bubbler fuses the power of multimedia blogging with workgroup collaboration architecture, letting you manage your projects and interests on the Web.

Starting a blog with Bubbler takes very little effort. You can create a page--or several, if you like--with your choice of 13 layouts that range from sleekly industrial to pastel and homey. Then you can invite coworkers to join in fruitful blogging with you. There's a Mac version, too, so you can work with colleagues who use different platforms.

Once you've set up your group blog, you can start posting. Compose and post a paragraph or more, or use the "reporter" feature to post breaking news line-by-line in real time. Bubbler accepts any kind of file that you click and drag into the interface, which is useful for making little photo galleries, for example. If Bubbler doesn't recognize a file, it creates a link on the blog page that lets viewers open the file on their own PCs.

Bubbler, now in public beta, has a simple interface that will look very familiar to some workgroup members. That's because it's a sibling to InterComm , the workgroup instant messenger from the same vendor. FiveAcross plans to integrate the two programs, sparing you the trouble of making new groups and contact lists for each.

Remember that Bubbler is beta software, so it still has a few quirks--most notably, trouble displaying some files (ironically, Microsoft Office files) in Microsoft Internet Explorer.

Bubbler is free for 30 days. At the end of the trial period, it costs $5 per user per month.

And for My Next Trick...

Qnext works nicely as a universal instant messenger, but this versatile freebie has many other tricks up its sleeve. I've always liked the way this communications service client opens extra features in attached panes called "zones" instead of in pop-up windows. Adding to zones for photo sharing, file sharing, and games introduced in previous versions, the latest crowd-pleaser--the rabbit from the hat, if you will--is the audio-streaming feature, which Qnext calls a "jukebox zone."

Since you decide who has access to your jukebox zone, you can decide who has the right to listen and who doesn't. The Qnext folks tell me that their latest users aren't seeking a Trillian -like IM aggregator; rather, they want to find a replacement for peer-to-peer music sharing networks. Certainly, Qnext's model of opening zones only to trusted buddies isn't as scary as opening your PC to the entire Internet. Nor is it as creepy to rifle through your spouse's music library as it is to sift through the potentially malicious files set out by a stranger.

Qnext lets you choose between playing files at a low-bandwidth reduced quality level or a high-bandwidth maximum quality level. To my untrained ear, both settings were acceptable--though they were discernibly different.

Looking Out for Yourself

While we're on the subject of downloading with caution, here's a quick public service announcement: Only you can prevent a PC meltdown. Programs that work fine on one computer may not work well--or might even cause problems--on another. Think of it like food allergies: One person could eat peanuts all day long, but a less lucky individual might be sent into anaphylactic shock by just a fleck of peanut butter. Worse yet, some programs are pure poison. Here are a few guidelines to protect your PC from potential damage:
Before downloading software, read compatibility information carefully. Software designed for Windows XP may not run properly on a Microsoft OS from last century.


Before you install your new software, make sure your system is clean. Run your antivirus program and your spyware checker. If you don't have one of each, browse our " Top Antivirus Tools " and " Our Favorite, Free Anti-Spyware Programs ." Once you're satisfied your PC is free of spyware, create a system restore point.


If you think you might need tech support, check to see if any is available. Vendors may not support their older programs. Most freeware vendors don't have the resources to offer prompt and personal tech support (this is one of the arguments for sending donations to freeware writers). Many of them do answer e-mail when they can, though, and some host online support forums.


Many of you have written to ask (very reasonably, I might add) if PC World conducts spyware testing on the downloads featured in this column. We do run them through a spyware checker and a virus checker. However, new malware is identified every day. No matter what the source of the file, it's smart to check for spyware before and after installing a new program--and if you find any spyware, to remove it and use the restore point you created.